Dorokha-Samtse public transport bus hits the road
Damcho Zam, Samtse
Feb 6, 2018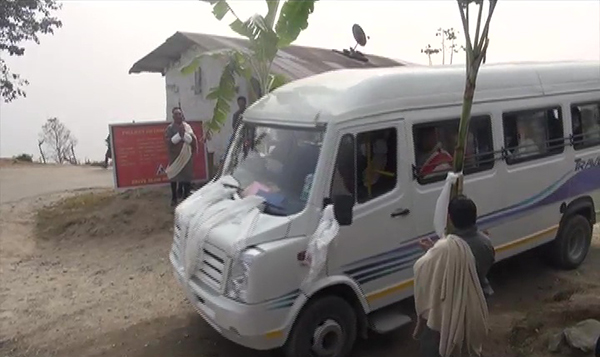 People of Dorokha Dungkhag in Samtse are all smiles after the much-awaited Dorokha-Samtse public transport bus hit the road yesterday. Locals there can now shuttle between Dorokha to Samtse without burning a hole in their pockets. Narapati Archarya, 56, is one among many other villagers in Dorokha who is extremely delighted to witness the launch of public bus service from Dorokha to Samtse.
He had been eagerly looking forward to a bus service since last year when Samtse-Dorokha Gewog Centre road was blacktopped. "We faced enough difficulties in absence of a bus service. We had to pay exorbitant fares while traveling in taxis.
Our problems are all solved now as the bus service has been introduced," added Narapati. The 18-seater bus had packed passengers while making its first trip to Samtse, yesterday. The service has reduced travel expenses for people since a fare for one-way journey costs Nu 60 per person.
Otherwise, people used to pay Nu 300 per person while taking a taxi for the journey. However, some people are worried that due to low bus fare, the owner might incur losses. "It is not easy to run the service considering costs involved. So, with such low fare, I think owner might run into losses.
Public here is willing to pay even Nu 200 per passenger for round trip," said one of the residents, Bedanath Phuyel. But the bus service operator, Nubchi Doya said, the public service was initiated primarily for the convenience of the people in Dorokha. "I came up with the bus service because those operators from outside were reluctant. It will also improve my livelihoods."
The transport service will not only benefit the civil servants but will hugely benefit the farmers in transporting their local farm produce.
Until now, an expensive taxi fare discouraged the farmers in taking their farm produce to the market.
On an average, about a hundred people travel from Dorokha to its dzongkhag headquarters every day.