Leaving Pakistan: A migrant's grueling attempt to reach Europe on foot
Headed to Europe, Ali Virk documented his risky and grueling journey from Pakistan to the Greek border. After losing a friend on the route, he used the footage to warn people about the dangers of irregular migration. "Along the way, one of us lied down. [Out of exhaustion,] he wasn't able to continue walking.
The smuggler forced us to abandon him and move forward." This is how Ali Virk remembers losing a travel companion on his way to Europe. It happened while he, along with a group of other migrants, was trying to cross the border between Iran and Turkey by trekking a mountainous road. Like thousands of young men in rural Pakistan, the 23-year-old Virk saw his future in Europe, even if it meant he had to trust the smugglers with his life throughout a long and perilous journey.
But after being forced to leave his travel companion behind, Virk started to doubt whether the journey was worth the risks. Now he has given up his dream to live in Europe and instead works on another goal: He tries to alarm people about the risks of going to Europe irregularly and tells them what the smugglers do not tell. He does that by sharing the story of his journey, which he documented using his smartphone camera, on YouTube.
The 6,000-kilometer journey to the EU border

In 2017, Ali Virk got in touch with a 'dunker' — a local term used to describe a human smuggler.
Dunkers organize the travel to Turkey and Europe through illegal border crossings, usually in return for US£2,500 to US£4,500 in payment. A friend who lived in Turkey had warned Virk not to go through that route, but he did not take the advice seriously. "I thought if he was able to reach Turkey safely, I would somehow manage too," he says. Shortly after his contact with the smugglers, Virk left his village to Quetta, a city in Pakistan's Balochistan and joined a group of young men who also wanted to go to Europe.
There, he says, the smugglers were supposed to pick them up and covertly take them to Iran. "The smugglers, … had assured us proper transportation and [said] that we will not encounter any difficulties on the road," Virk says. But it was not true. He realized that the promised "proper transportation" was in fact, an overloaded minivan. "These vans are full of young men, some people have to squat in the car's truck.
Each small van is loaded with 17 to 18 people, much beyond its capacity. People are even made to sit where we put our feet," he says. Before arriving in the Taftan border area, the passengers have to endure a long ride through a bumpy road.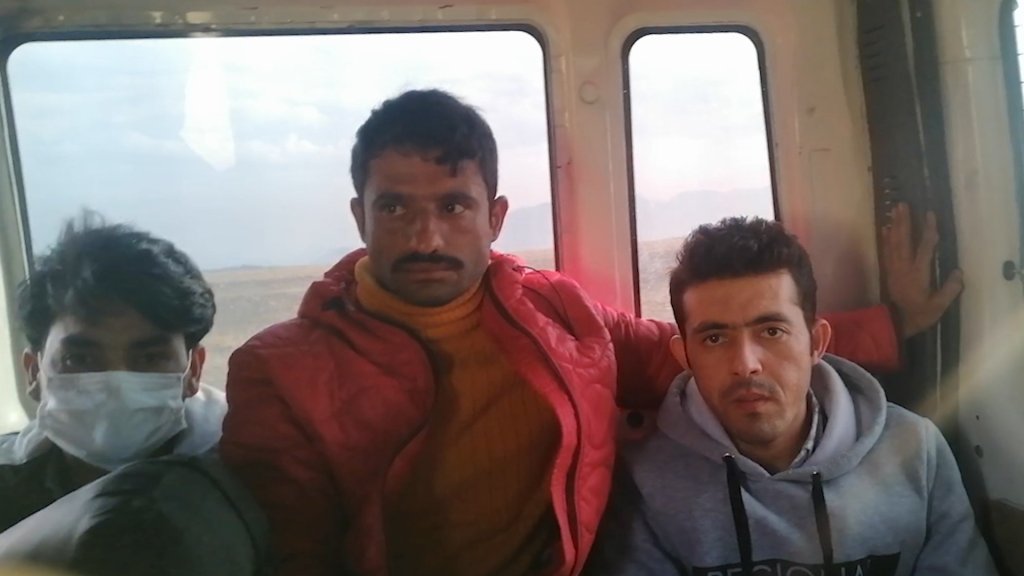 An overloaded mini van took Ali Virk and about 16 others to the border between Iran and Pakistan | Credit: Ali Virk
"Many people die on that road," Virk says. "Now and then you get to hear the news about it.
Abductions, kidnapping, looting … all of these crimes are common along the way." After arriving in Taftan, Virk says they walked their way into the Iranian territories and headed to the Turkish border. To enter Turkey, the group had to trek a mountain gorge at an altitude of over 1,600 meters.
That was the climax of Virk's journey. "Due to the high altitude [of the route], there is less oxygen and it's difficult to breathe. The pathway along the mountain is very narrow and if someone slips, they will just fall to their death."
It was on that road that Virk had to abandon his enervated companion. "I still remember what he told me, which was probably the last thing he said to anyone," Virk says." He told me to tell his mother that she shall not wait for him and that his son had died." Unlike his stranded travelmate, Virk entered Turkey and even made it to the Greek border. But he never managed to cross that border into the EU.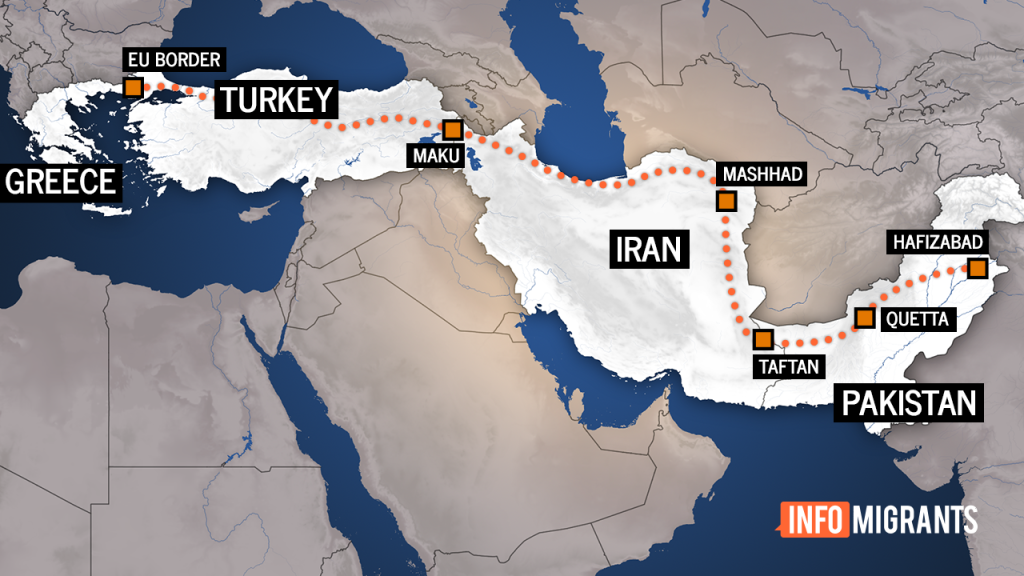 <br>Virk traveled about 6000 kilometers from his village in Pakistan's Punjab to the borders of Greece through Iran and Turkey. | Photo: InfoMigrants
Returning home

Even if he could reach Europe, the chances of him receiving refugee status would have been slim.
In recent years, Pakistani nationals have appeared among the largest groups of asylum seekers in Europe, but only a small percentage of them get a positive response to their asylum applications. Only in the last quarter of 2020, from nearly 5,200 Pakistani asylum seekers, 88% were rejected, as data from the European Commission shows. Ali Virk spent some time in Turkey doing odd jobs in the black market. In 2018, disillusioned about his rewardless adventure, he took the same road he had came from, back to Pakistan.
Even though he didn't make it to Europe, he considers himself lucky. Unlike lots of other migrants from Pakistan, he safely made it back home. A friend of Virk, who was trying to reach Europe through the same way that Virk did, died in the mountains between Iran and Turkey, the same area where Virk had to abandon a groupmate.
Moved by his friend's demise, he decided to take action. "This particular event triggered me to use all my own videos and stories and warn people of the dangers of such journey," he says.
[embedded content]
Showing what Illegal border crossing is like on YouTube

Ali Virk is back in Turkey now. He has a job and resides there legally. But he also has his own Youtube channel.
He tells his story using the videos he had recordedthoughout his journey and tries to debunk the smuggler's claims. Some of his posts have gained traction and made the influence that Virk was aiming for. "These days, I receive many messages from mothers who tell me that their sons changed their mind about going to Europe with Smugglers," he says. "They tell me that they have invested thier money into a small business in Pakistan instead."
Virk says he feels relieved to realize that sharing his experience has helped people take better decisions. "I suffered losses and pain during my illegal journey," he says, "now I just want to be sure that others are aware of the dangers that lie ahead of their journey."