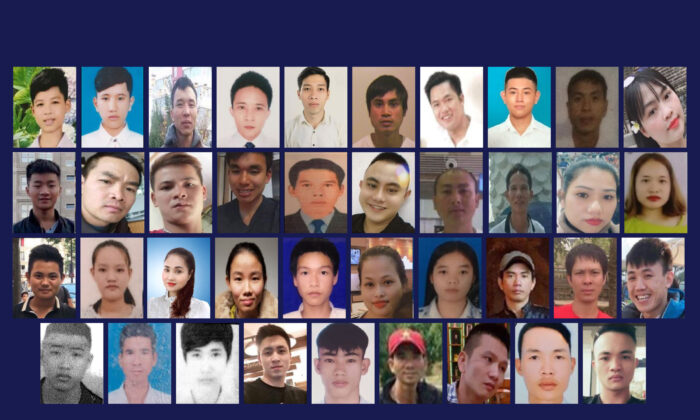 Undated family handout photo of (left to right top row) Dinh Dinh Binh, Nguyen Minh Quang, Nguyen Huy Phong, Le Van Ha, Nguyen Van Hiep, Bui Phan Thang, Nguyen Van Hung, Nguyen Huy Hung, Nguyen Tien Dung, Pham Thi Tra My, (left to right second row) Tran Khanh Tho, Nguyen Van Nhan, Vo Ngoc Nam, Vo Van Linh, Nguyen Ba Vu Hung, Vo Nhan Du, Tran Hai Loc, Tran Manh Hung, Nguyen Thi Van, Bui Thi Nhung, (third row left to right) Hoang Van Tiep, Tran Thi Ngoc, Phan Thi Thanh,Tran Thi Tho, Duong Minh Tuan, Pham Thi Ngoc Oanh, Tran Thi Mai Nhung, Le Trong Thanh, Nguyen Ngoc Ha, Hoang Van Hoi, (bottom row left to right) Tran Ngoc Hieu, Cao Tien Dung, Dinh Dinh Thai Quyen, Dang Huu Tuyen, Nguyen Dinh Luong , Cao Huy Thanh, Nguyen Trong Thai, Nguyen Tho Tuan, and Nguyen Dinh Tu, are the 39 Vietnamese migrants, aged between 15 and 44, that were found dead in the back of a trailer in Essex on Oct. 23, 2019. (Essex Police via PA)
UK police arrested a Vietnamese national on Thursday in connection with the deaths of 39 Vietnamese migrants in 2019.
The 39 migrants, aged between 15 and 44, suffocated to death[1] in the back of a refrigerated lorry as they tried to make their way to the UK on Oct. 23, 2019.
The unnamed male arrested on Thursday is allegedly a part of a human trafficking network that moves migrants into the UK through Belgium and France in the back of lorries, according to the National Crime Agency (NCA).
Miles Bonfield, NCA's head of organised immigration crime operations, said that the individual detained "is suspected by the Belgian authorities of having played a key role in placing at least ten migrants inside that lorry."
The man is suspected of running safe houses in Brussels where the migrants stayed and organising onward taxis to a collection point near Bierne, France, where the migrants were loaded into the refrigerated lorry.
The lorry was then driven from the coastal town near the Belgium/France border to Zeebrugge, Belgium, and put onto a ferry to England.
The NCA said a Belgian investigating magistrate issued an arrest warrant last December for the man, whom it suspects was in the UK and had had links to the Birmingham area.
The man was tracked down and arrested at a supermarket petrol station just off the A66 in Middlesbrough, a town in North Yorkshire, England, on Thursday afternoon.
He is due to appear before Westminster Magistrates where extradition proceedings will begin.
Another Vietnamese man known as Ngo Sy Tai—also wanted by the Belgian authorities for his role in smuggling the victims—was arrested by the NCA in December 2020 and is waiting to be extradited.
Bonfield said officers at the NCA are determined to do all they can " to get justice for the families of those who died, and disrupt and dismantle the cruel organised criminal networks involved in people smuggling."
On Jan. 22, seven men convicted over the deaths of the 39 migrants were sentenced[2] to a total of 93 years and eight months in prison.
Eamonn Harrison, who loaded the migrants into the lorry in Bierne and drove them to Zeebrugge, was sentenced to 18 years in prison.
Maurice Robinson, the lorry driver who found the bodies in Essex, England, was sentenced to 13 years and four months in prison after pleading guilty to 39 counts of manslaughter, conspiracy to assist unlawful immigration, and acquiring criminal property.
Robinson's boss Ronan Hughes and his co-conspirator Gheorghe Nica were sentenced to 20 years and 27 years in prison, respectively.